* LYONS COMMUNITY CENTRE UPDATE *
The Lyons Community Centre will see a phased return of activities over the coming months, in line with Government guidelines. For more information and to keep up to date on the available activities click here. If you would like to speak to someone about booking the available space please do not hesitate to contact Rebecca at rebecca@casetrust.org.uk / 07458 301846.
* 230 Bus Service Update *
We are pleased to announce that the 230 bus service will resume on Monday 8th March 2021. For the up-to-date timetable click here. Thank you for your patience and co-operation during its suspension.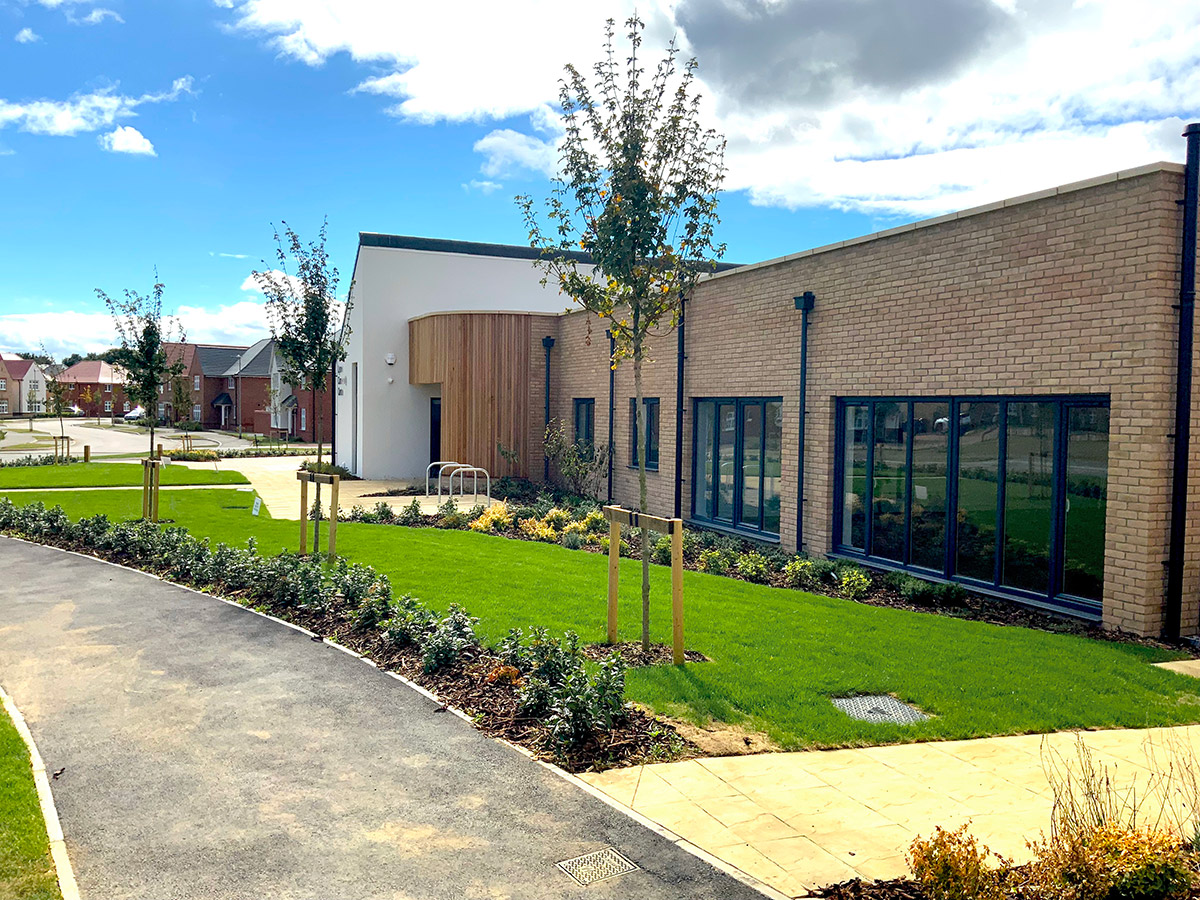 Have your say…
Here's your chance to let us know what you'd like to see happening at the Lyons Community Centre. If you could spare a few minutes to complete our survey and share your ideas we would be very grateful. Please click here to complete.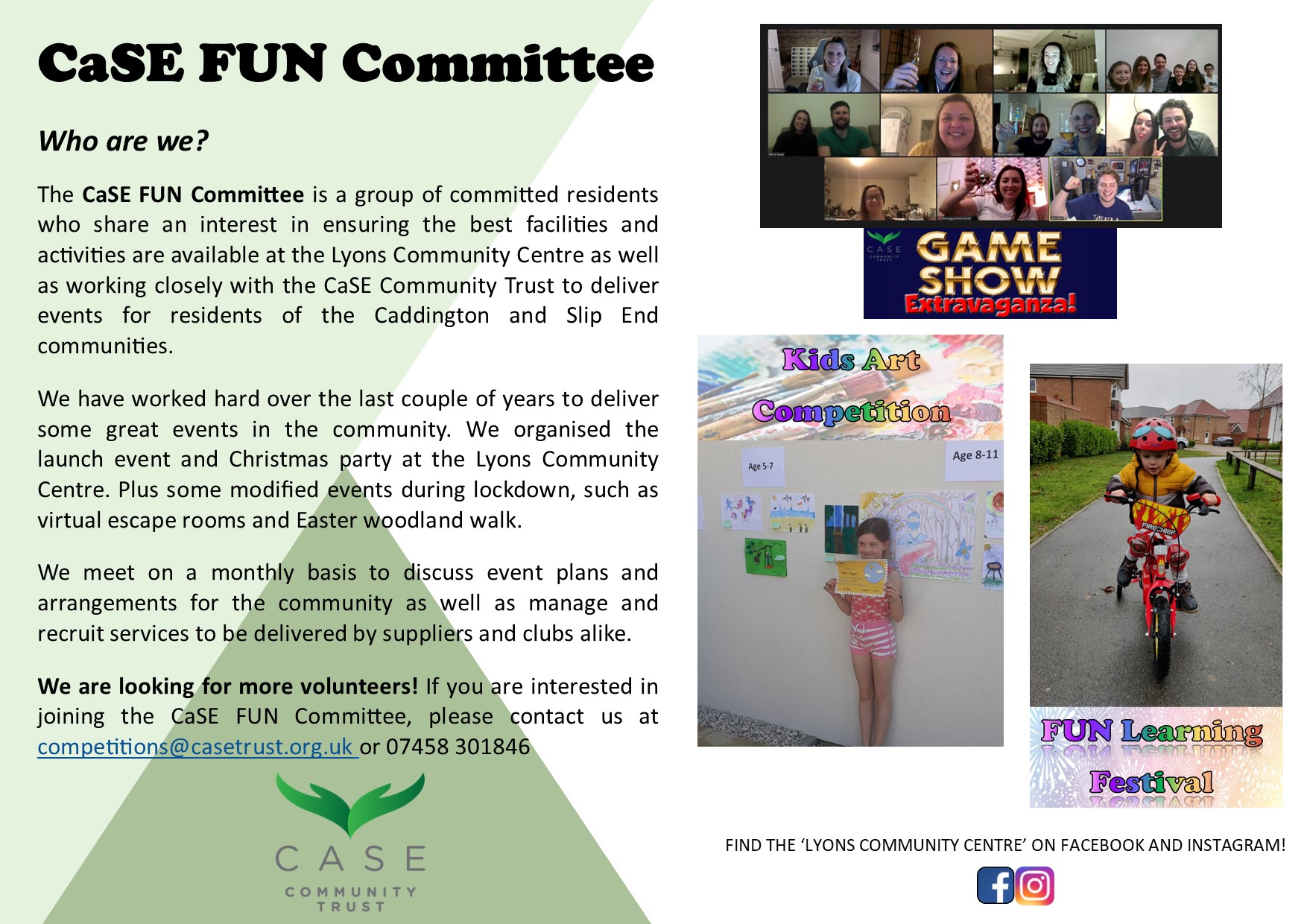 FUN Committee
CaSE FUN (Caddington & Slip End Facilities Usage Network) meet regularly to help with the ongoing use and management of Lyons Community Centre. If you'd like to get involved, get in touch!
Contact form
If you would like to get in contact with Rebecca, CaSE's full time Trust Manager who is based at the Lyons Community Centre, please click here, email rebecca@casetrust.org.uk, call 07458 301846, send a message on Facebook Messenger or write to Lyons Community Centre.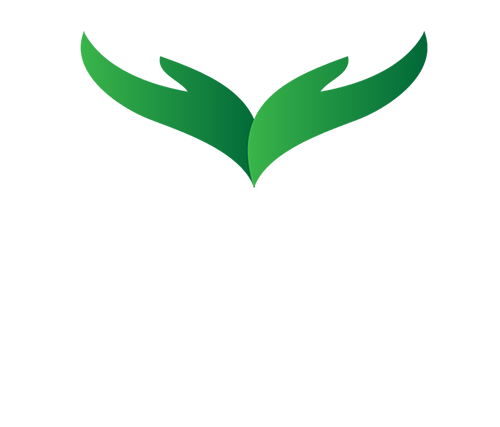 Caddington & Slip End Community Trust (CaSE) was formed in December 2014 by General Motors and Redrow Homes, as a lasting legacy from the development at Caddington Woods. Caddington Woods is located between the villages of Chaul End and Caddington within Central Bedfordshire.
CaSE's principal function is to own and manage the public open spaces, play areas, and community facilities at Caddington Woods, but was also established to deliver wider community benefits to the residents of the two parishes of Caddington and Slip End.
CaSE has been endowed with a number of affordable homes on the new Caddington Woods development. The income from these homes will be used to maintain the delightful green spaces and community facilities, including a low carbon community centre, publicly accessible woodlands and play area. It also supports the running of a community bus service providing a link between the new neighbourhood at Caddington Woods and the surrounding areas.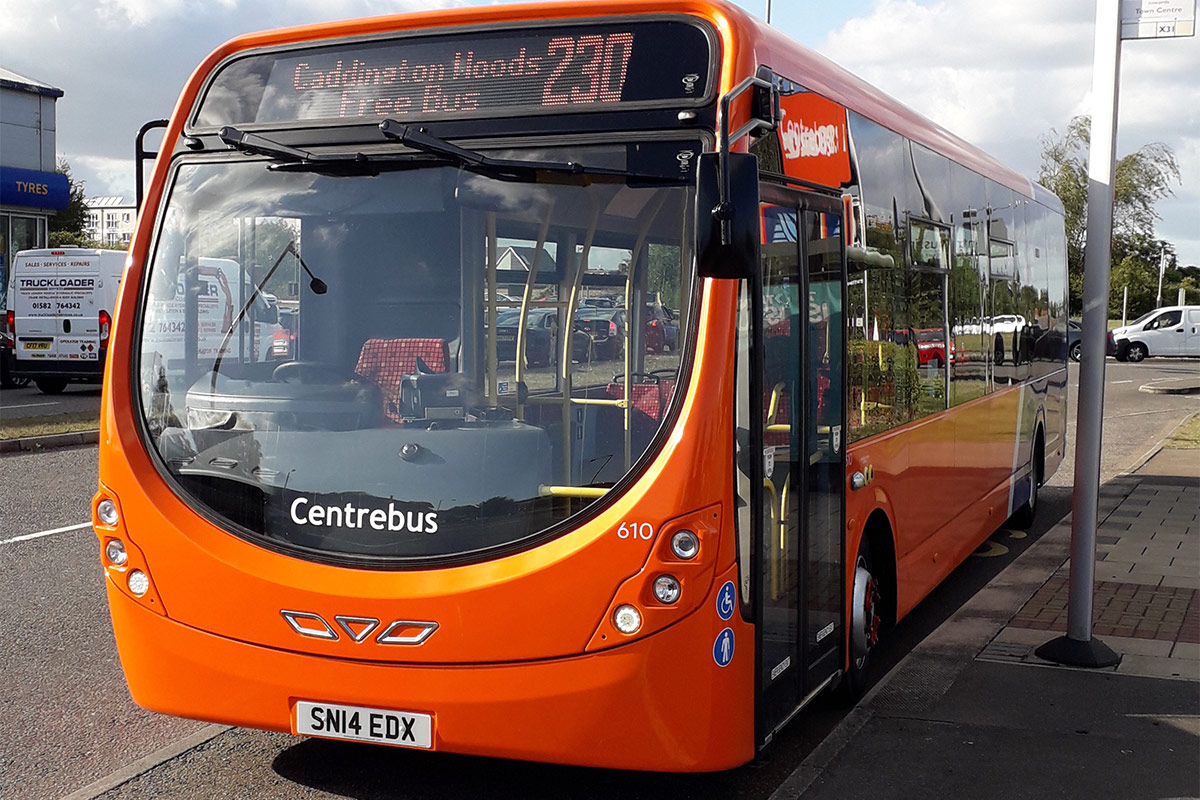 CaSE provides a FREE demand-led bus service
The 230 bus service runs between Luton & Dunstable Hospital and Luton Interchange, via Luton Airport Parkway, and during school hours operates journeys via Stockwood Park Academy and Caddington Primary. The Trust expects to continue to expand the frequency of the 230 service as demand grows.
It is important that the bus services are tailored to the needs of local residents. Therefore, we are conducting ongoing research to find out more about residents' travel requirements for school, shops, work, and leisure, in order to make the local bus services work for you. To have your say about the free 230 bus service, please click here to complete our survey.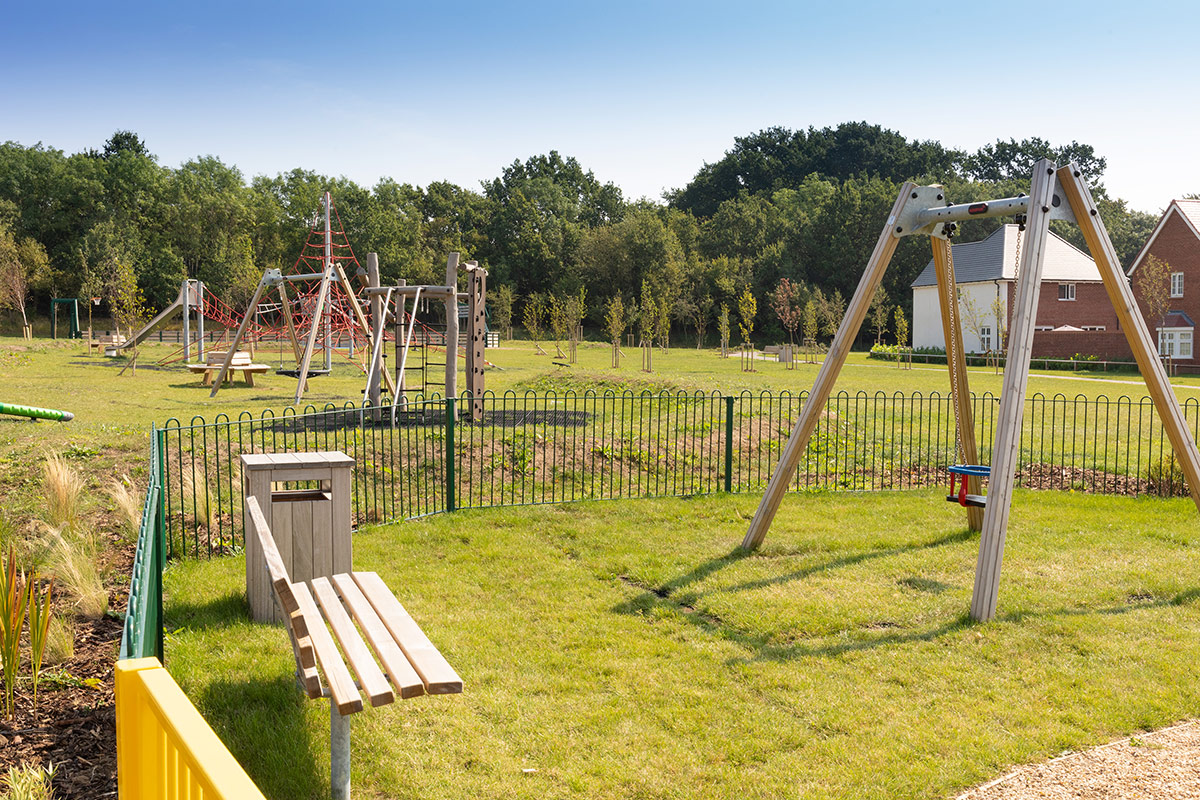 Children's Play Area
These fully equipped modern facilities set within parkland trees and located opposite the Community Centre, are to be the focus for both children's play and a range of community activities including organised community play schemes, events and other activities.
To report any maintenance issues please contact us as soon as possible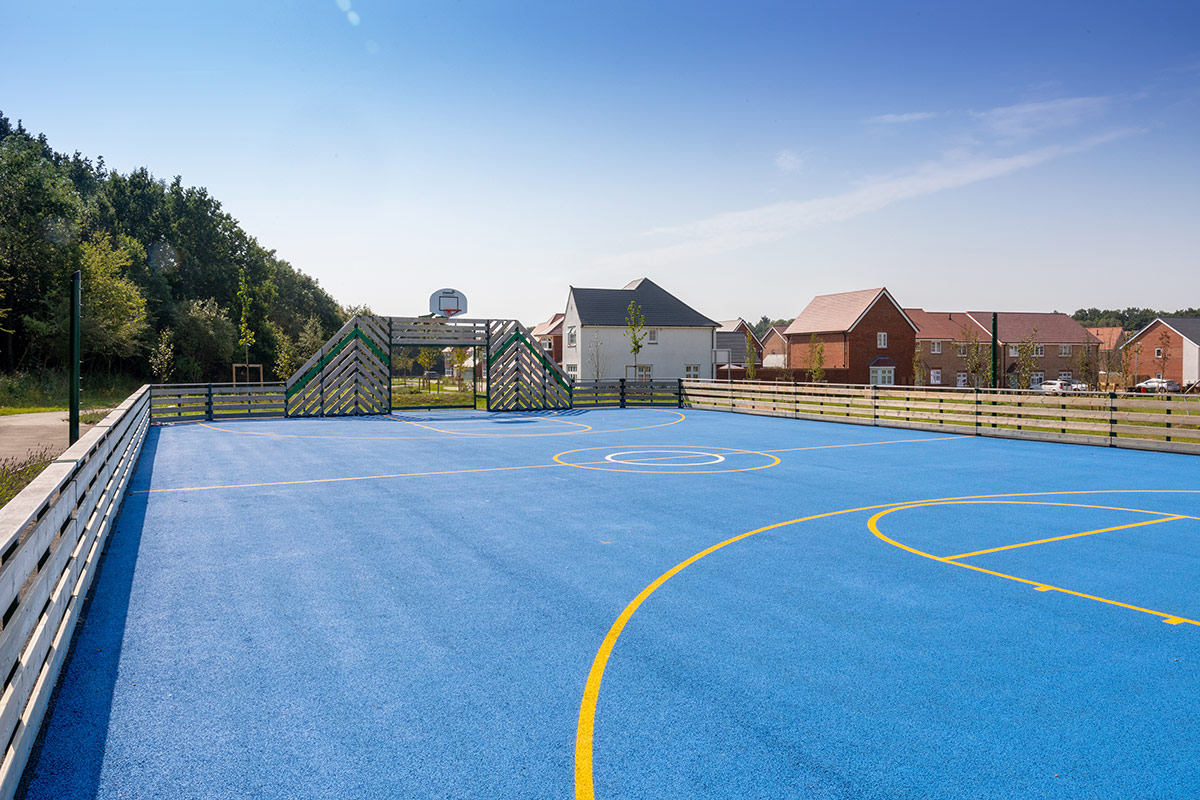 The Lyons Community Centre is open for your booking needs.
The centre boasts bright, modern equipped spaces that are fit for a vibrant community.  Halls for hire will be fitted with equipment for all your needs including an easy to use Bluetooth sound system and high speed internet.  It is available for your family functions, children's parties and other community group activities.
In addition, the centre includes office and meeting room spaces with flexible use. Hire these spaces for your work from home, meeting, consulting or therapeutic activities.
To check out what's on and view the
Lyons Community Centre weekly diary: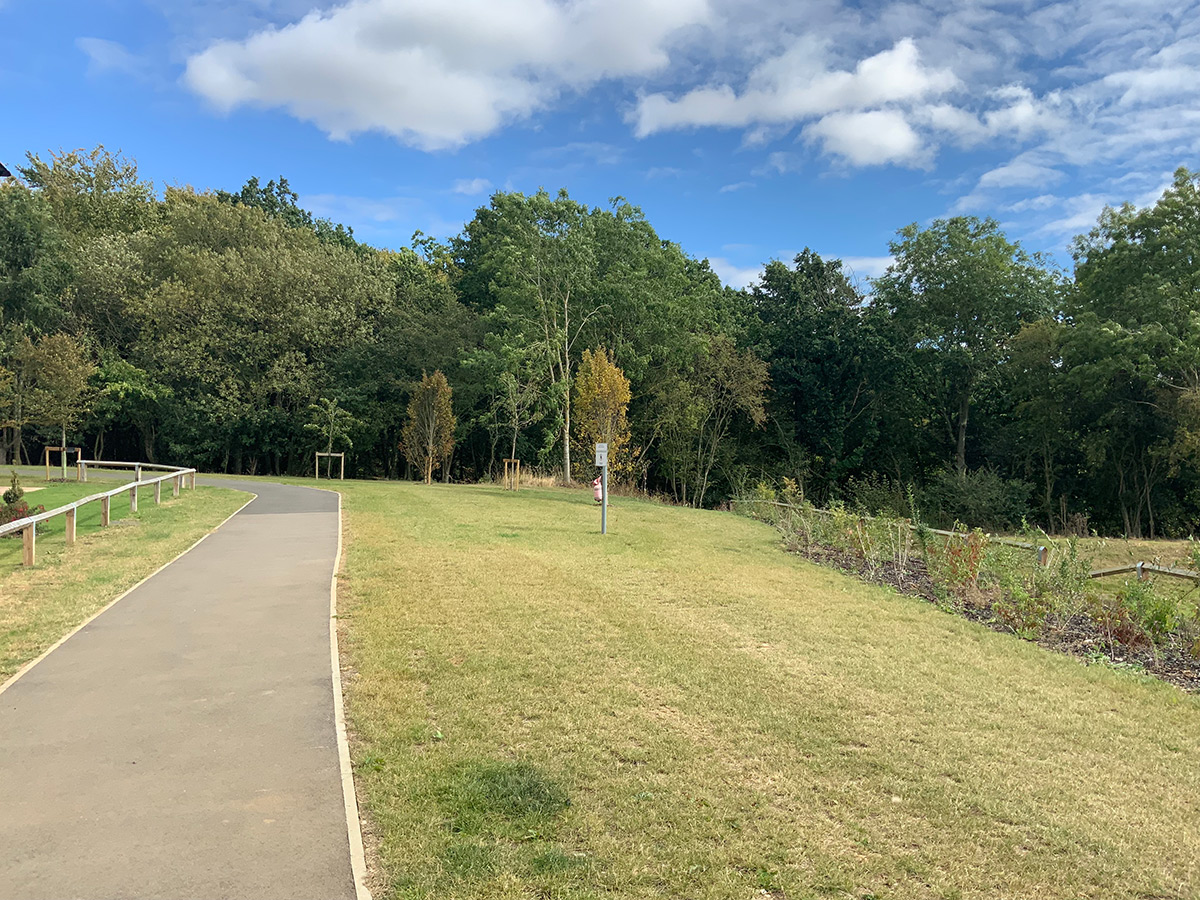 MANAGEMENT OF THE WOODLANDS
Caddington Woods is surrounded by established trees and woodlands with a number of footpaths running through the woods, and connecting into established walking routes across the surrounding countryside.
CaSE is managing and maintaining these woodlands and all of the Caddington Woods public landscaped spaces to maximise both the ecological and recreational benefits for the local community.
Please do enjoy them, and notify us of any rubbish, vandalism or areas in need of attention.
To read our Environmental Policy please click here.
What is the Heritage Greenway (HG)?
The HG will provide an 'easy access' route for pedestrians, cyclists, and where possible, horse-riders. It will seek to celebrate and secure the rural setting of Caddington and Slip End, which has high heritage, wildlife and landscape value.
The route will link the communities to each other, with surrounding areas of heritage and wildlife interest; and with Luton. Opportunities will be sought to protect and celebrate the area's rich heritage and to enhance and create habitats and landscape features. Much more than a linear access path, the HG will seek to be a corridor of great environmental value, with many links to adjacent destinations and features of interest.
What is the aim of the Heritage Greenway?
The aim is for the HG to:
• Be traffic free, un-broken, with no missing links and a minimal number of road crossings
• Be safe and inspire confidence in visitors and offer 'easy access' and designated, safe crossing points
• Have the potential for future upgrading to use by cyclists (where not already possible)
• Provide connections between where people live and where they want to travel
• Be clearly signed and easy to follow and well maintained
• Provide enhanced user enjoyment through the provision of information boards and benches in attractive locations
• Where possible provide access for horses, particularly links to existing bridleways
• Be protected from future development and cause no damage to archaeological sites
To read the strategies click here:
Caddington Woods is a residential development of 325 dwellings, a play area and community hub. Redrow are providing a range of high-quality houses for sale, two housing associations (Thrive Homes and Catalyst) are providing housing for social rent and CaSE are offering the properties it has been endowed with at "Intermediate Rent", i.e. 80% of current market rents. There are 3 sizes of CaSE properties: 2 bed, 3 bed (4 person) and 3 bed (5 person). CaSE trustees have adopted a localised lettings policy which gives priority to people in housing need who originate from or have close family connections in Caddington and Slip End.
CaSE currently have 34 properties, in the first two phases of Caddington Woods, managed by Central Bedfordshire Council's Letting Service. There are a further 12 properties due to be completed, however due to the unforeseen circumstances and effects COVID-19 has had, these properties have been delayed until June 2021, at the earliest.
If you would like to register for housing in Caddington Woods click here  and complete the online registration form. For more information, or to check the status of your application, please contact Central Bedfordshire Council here.
ABOUT THE TRUSTEES
CaSE Community Trust is managed by a board of trustees made up of different stakeholder interests. Introducing you to our current board…
Rob Gray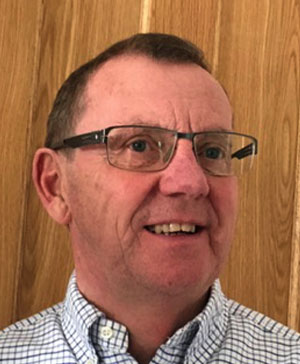 Read Bio
Alison Jackson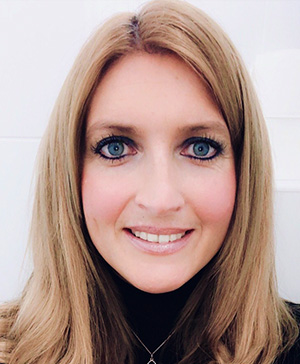 Read Bio
Dave Bent
Read Bio
Helen Brind
Read Bio
Mark Russell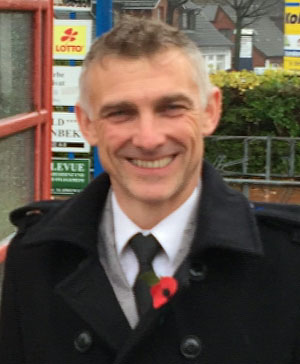 Read Bio
Councillor Simon Patterson
Read Bio
Steve Baird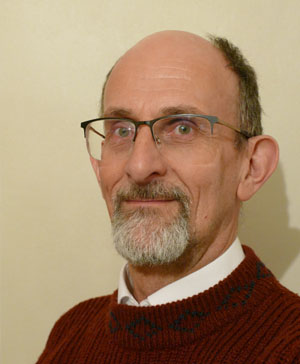 Read Bio
Address
Lyons Community Centre,
33a Mallard Crescent,
Caddington,
Luton,
Bedfordshire LU1 4FG
Subscribe to our Mailing List!