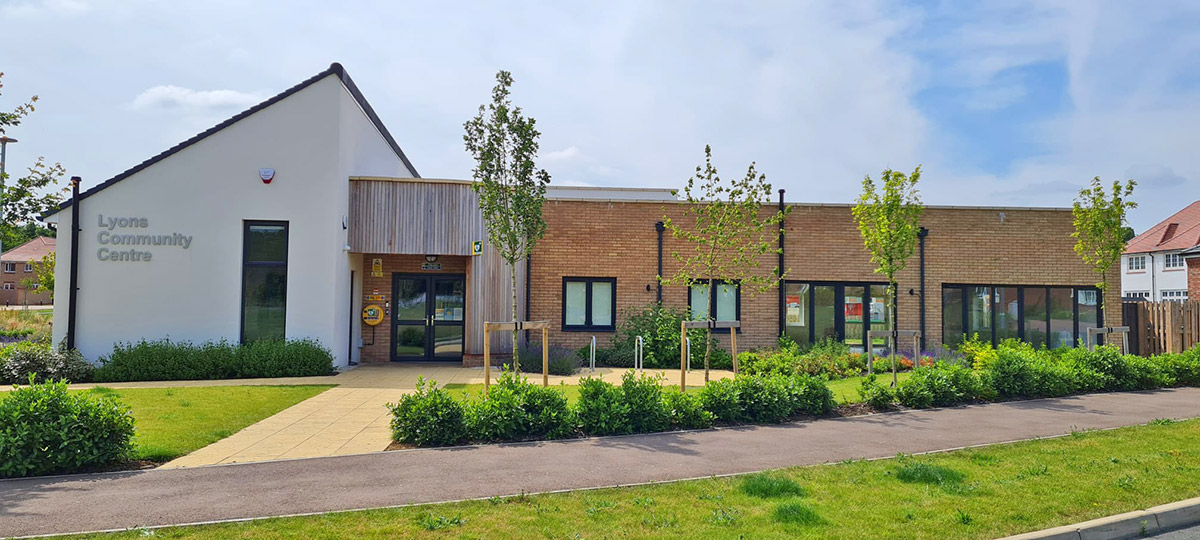 Lyons Community Centre
OPEN FOR A PHASED RETURN OF ACTIVITIES INCLUDING CHILDREN'S GROUPS, FITNESS CLASSES, GROUP MEETINGS, CLUBS, BIRTHDAY PARTIES AND MUCH MORE
A modern building with WiFi and bluetooth systems.
The Lyons Community Centre is centrally located in Caddington Woods and is a bright, modern building with good access for all. Sitting in landscaped grounds the centre also has an enclosed outside patio area that is suitable for larger occasions. There is also easy access to a play area opposite, suitable for our younger visitors.
Perfect for birthdays, receptions, parties and fitness classes, the centre features two function halls. Griffin Hall, the largest of the two, has capacity for up to 80 people seated (30 during COVID-19 restrictions). Belmont Hall has capacity for up to 60 people seated (20 during COVID-19 restrictions) and both have access to the modern equipped semi-domestic kitchen. Tables and chairs are provided for use by hirers as standard.
The centre also has two meeting rooms and two offices/consulting rooms. The meeting rooms can accommodate between 3-6 people and the offices can accommodate up to 2 people comfortably. The multi-function layouts provide workable space for small groups, 1-2-1s, small meetings and a work from home space.
The centre has Wi-Fi, as well as a Bluetooth sound system in the halls and with the installation of mobile and static screens it can meet your technological needs too.
Convenient parking for up to 20 cars makes it a great choice for your chosen function.
We go here for slimming World most weeks, great facilities, very accessible, very clean and spacious. A great venue all round.
Five Stars: ✪✪✪✪✪
Great new facility, helpful staff.
Five Stars: ✪✪✪✪✪
Subscribe to our Mailing List!